Vicon EXTRA 690T BX - Triple Mower Combination
Butterfly combination with Swath belt, ISOBUS control and steel tine conditioning.
Working width of 9.00m  
Butterfly Combination
Vicon's top-of-the-line mower conditioner triple combination offers 9m working width. It consists of an EXTRA 632FT or 635FT front mounted mower conditioner with 3.18/3.50m working width and two rear-mounted 3.18m mower conditioner units. There is no need for a special reverse drive tractor, as the EXTRA 690T fits perfectly on a normal tractor with front and rear linkage.
The Advantages:
9.00m working width
Swath Belt.
ISOBUS control.
4 different output, 3 single swaths, 100% wide spreading, 3 swaths into 1 or two by two.
Pendulum suspension with 4 heavy duty springs.
Available with swath belt and FlipOver wide spreading. 
See more about our ISOBUS range of grass implements.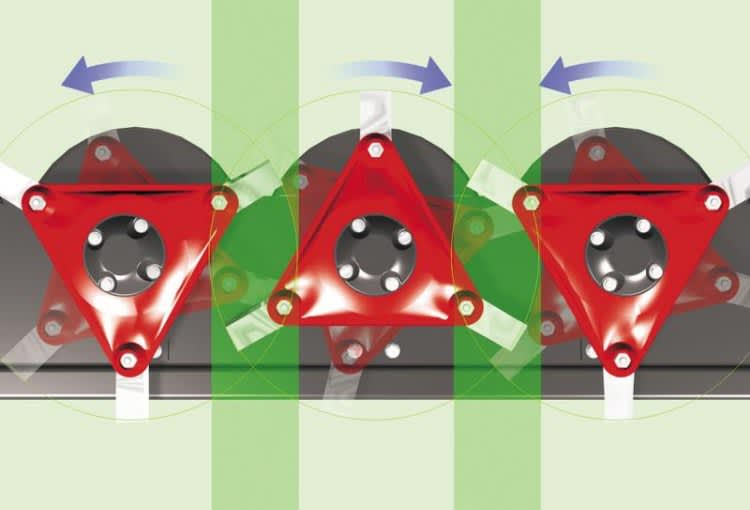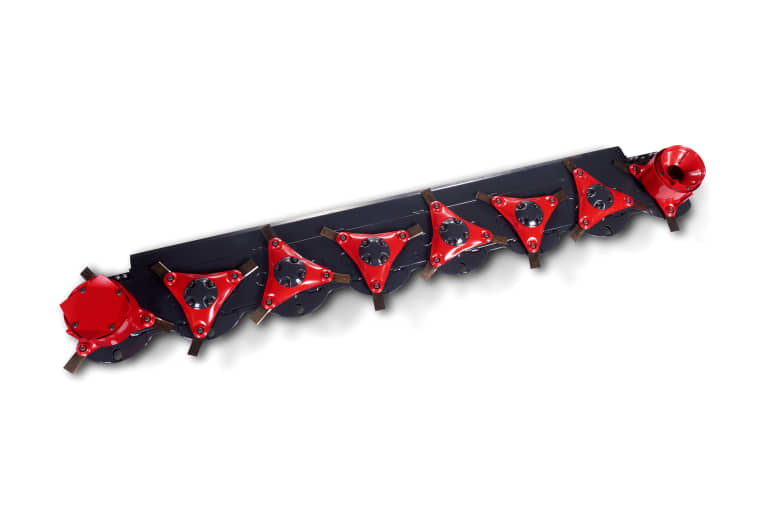 The EXTRA cutterbar is designed for low maintenance and offers a very quiet operation.
Operators will immediately love the virtually quiet operation of the new cutterbar – convenient during a long and busy working day
Fully welded cutterbar for a very strong construction.
Even number of contrarotating discs for improved overlap.
Three bladed discs for more cuts.
Smooth stone guard design for excellent cutting quality.
High oil capacity ensuring low working temperature.
Low noise level thanks to specially tooled gear wheels.
Twisted knives for a clean cut in all conditions.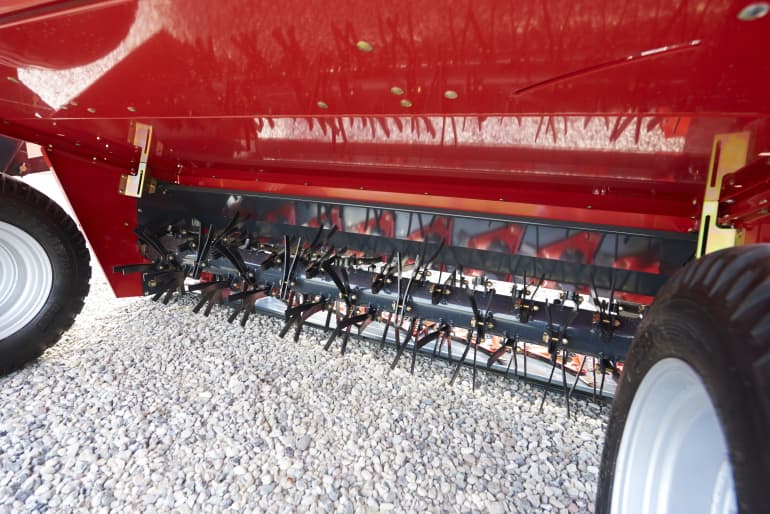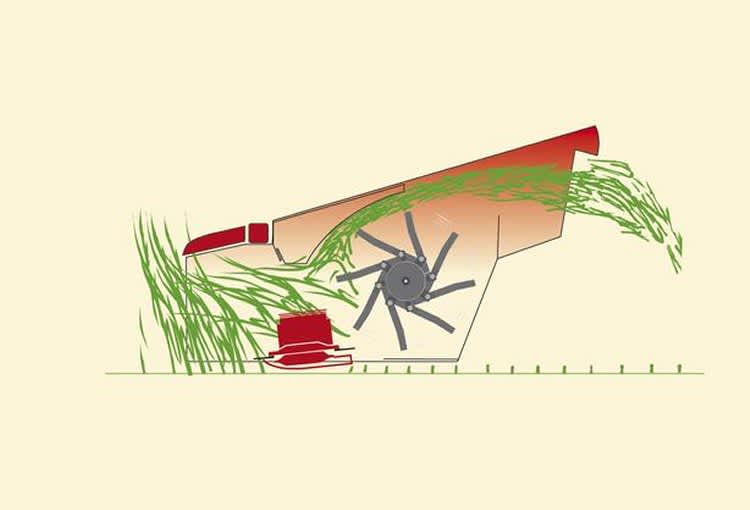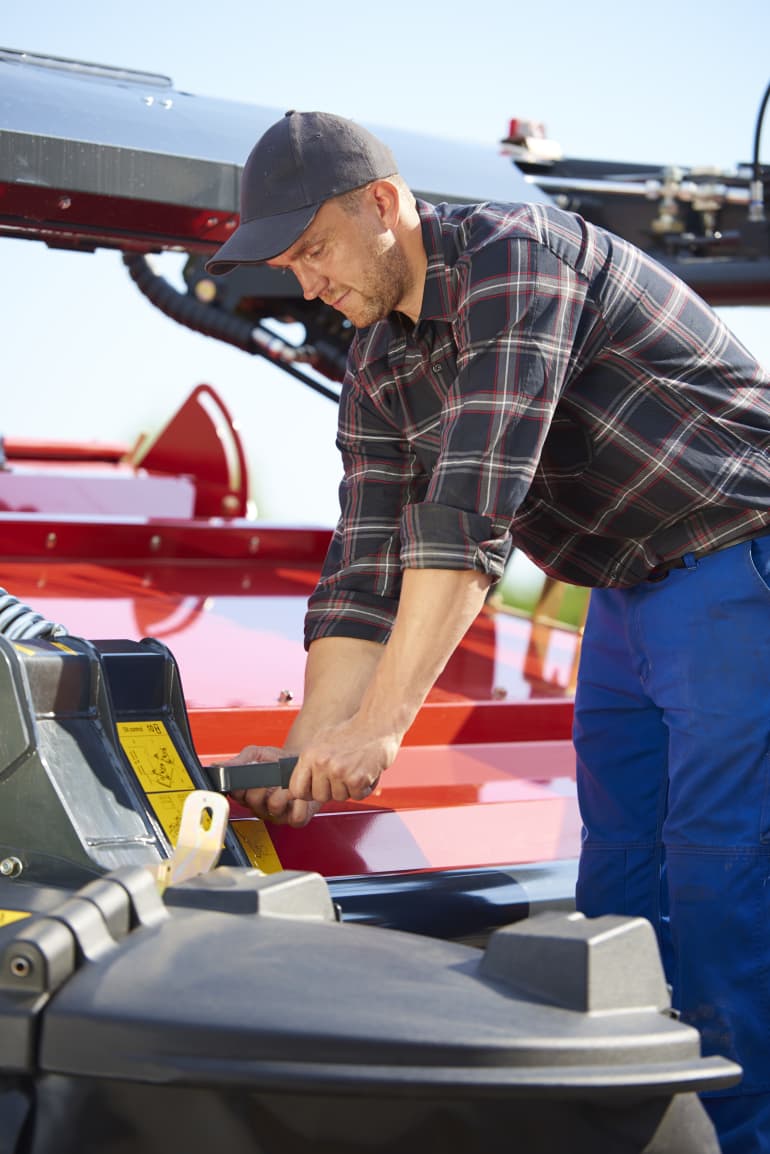 The SemiSwing conditioner system combines the aggressive conditioning seen from fixed fingers with the excellent tine protection typically associated with free swinging tines.
During normal operation the tines are fixed for effective conditioning, but if a SemiSwing tine comes into contact with an obstacle, force will exceed 22kg (48.5lbs) and it will spring back and leave a generous space for the obstacles up to 103mm to pass.
The complete conditioner tine has been redesigned to move the centre of gravity. The result is that the tine will stay in position when hitting the crop, to give full conditioner effect and to minimise wear and tear on the turning points.
The angle and position of the SemiSwing tines give a better crop transport. The crop is moved away from the conditioner rotor, resulting in reduced risk of blockages and full effect of the conditioner plate.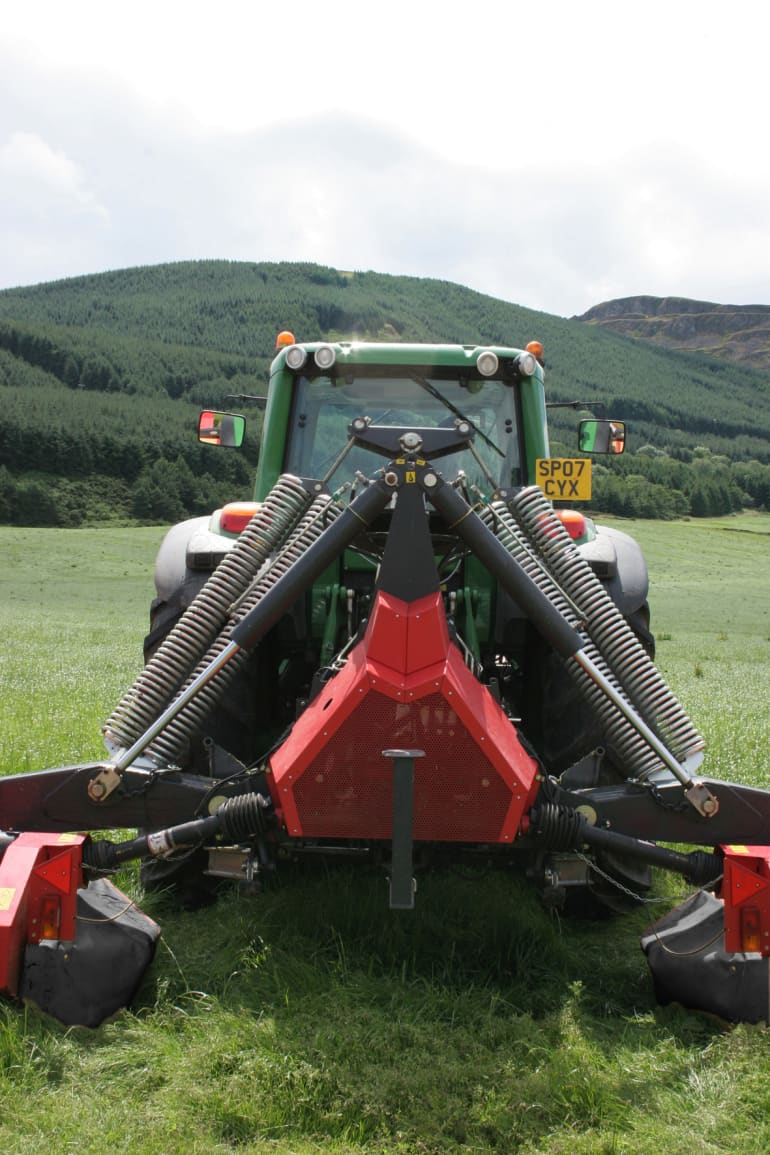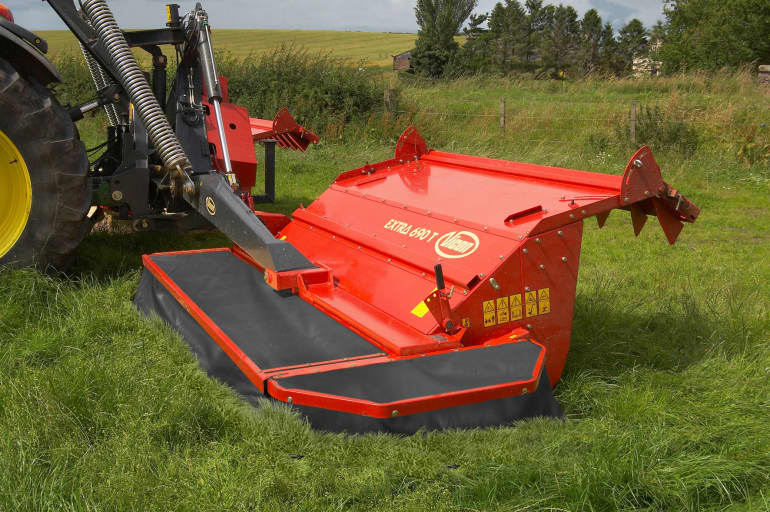 The EXTRA 690T is fitted with a balancing weight arm, linked to the 4 heavy duty ground pressure springs on top of the three point suspension, to ensure an even weight distribution of the two rear sections.
The low gravity scale arm suspension ensures that the mowing units always remain horizontal in relation to the ground, when working in uneven or hilly conditions, or if the tractor is hitting small obstacles in the field.
When using SideShift equipment, the balancing arm also facilitates equal ground pressure on either side of the rear mower units.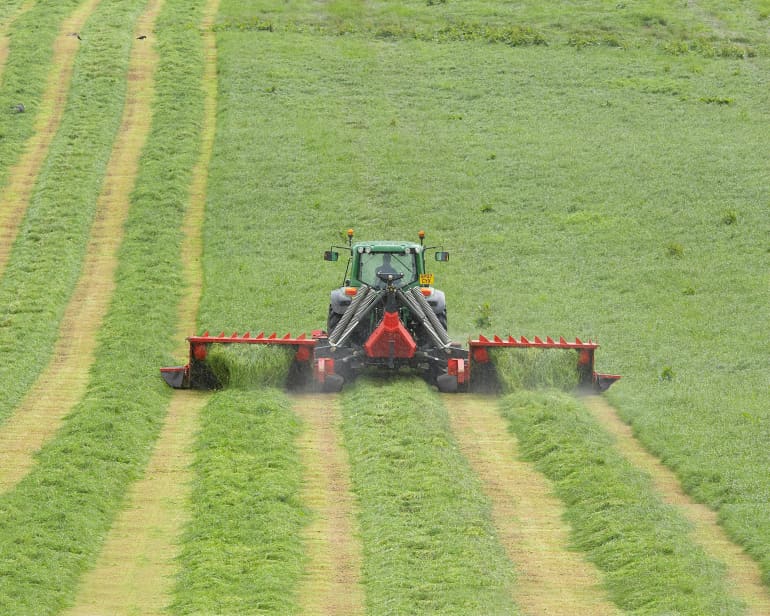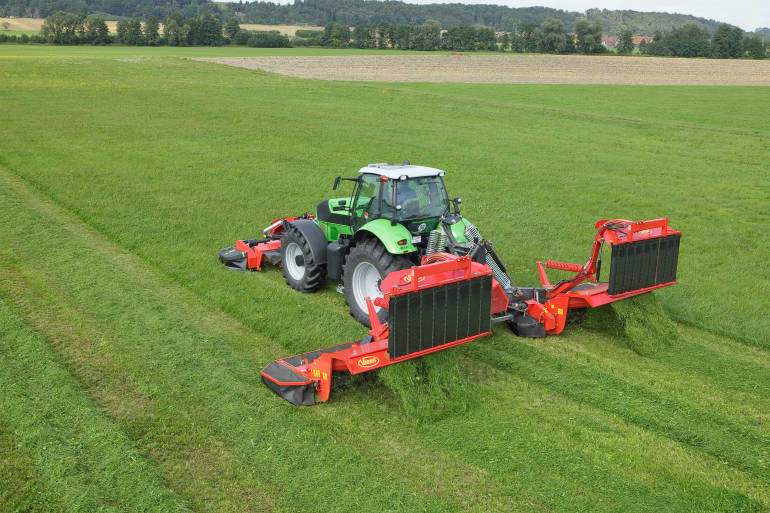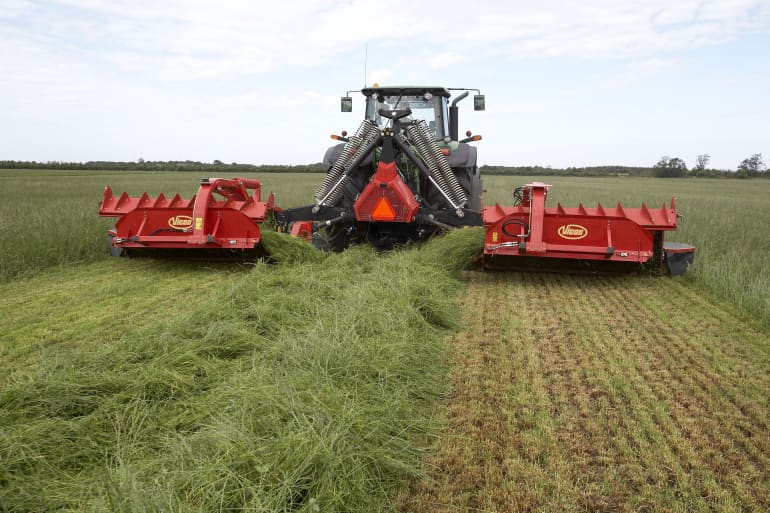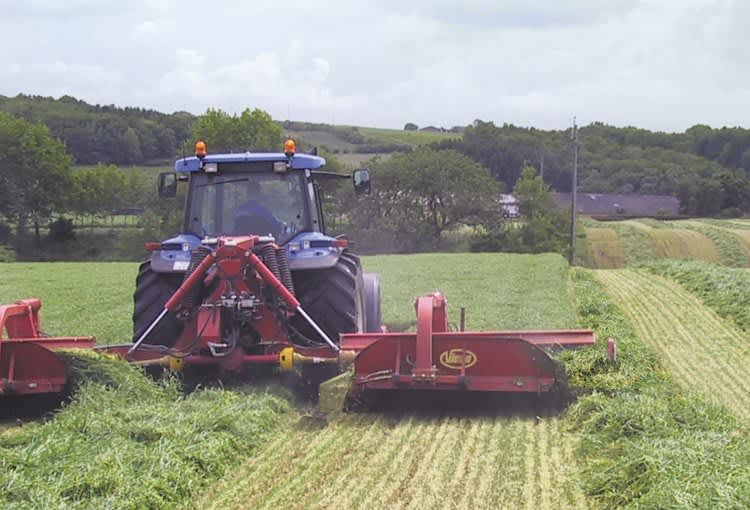 Vicon EXTRA 690T is the most flexible mower conditioner solution on the market. It can be equipped with wide spreading equipment and the Vicon swath belt solution to ensure outstanding flexibility. It is easy to change between the different configurations, and conversion is very quick.
 4 Different Output
Vicon EXTRA 690T can be set for 3 single swaths, wide spreading or three swaths into one with the Vicon swath belt. An extra feature is the fact that the right belt can run in two directions, meaning that the EXTRA 690T will place grass from 6m into one swath.
 Suited For All Conditions
The swath belt is capable of placing crop from either 6 or 9m into a single swath. The right hand belt can run both left and right, giving the option of placing three swaths into one, or in a two by two formation
Vicon EXTRA 690T can be set for 3 single swaths, wide spreading or three swaths into one with the Vicon swath belt.
An extra feature is the fact that the right belt can run in two directions, meaning that the EXTRA 690T will place grass from 6m into one swath.
When not in use the optional swath belt is raised hydraulically to a position above the mowing units. All you need to do is to push the button on the control box to change the configurations.
The swath belts are floating on two large springs, and thus performing a unique and even swath formation under all conditions (no jumping up and down of belt units). A unique and simple solution with several advantages.
Fewer moveable parts, ensuring less wear and maintenance.
Better flotation of the entire machine.
Even swath formation under all conditions.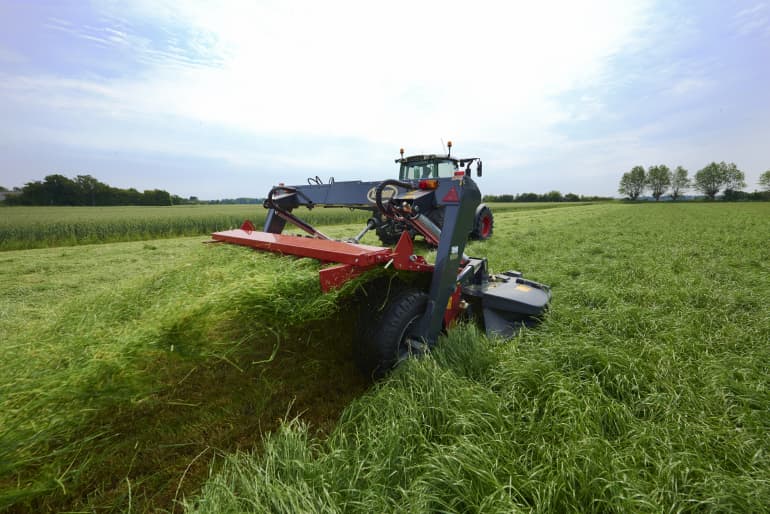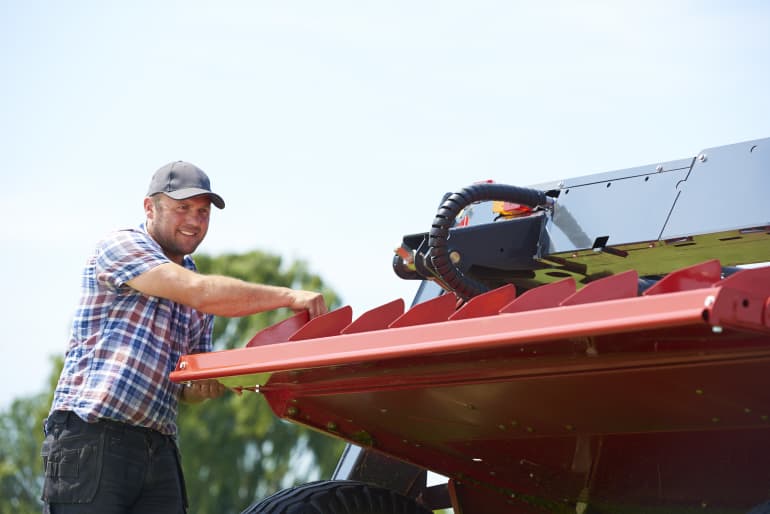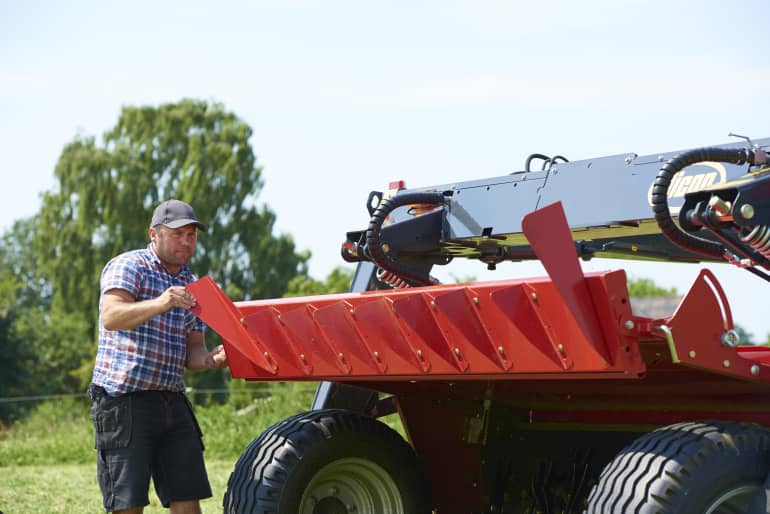 As an option the Vicon EXTRA 900 and 690T mower conditioners can be equipped with widespreading equipment. In this way, crop can be cut and spread in one operation, saving both time and at least one tedder operation.
The spreading vanes of the Vicon FlipOver system are placed further back on the mowing unit than with conventional systems.
This is thanks to the spreading plate positioned far to the rear when in use. The improved distance between the conditioning rotor and the spreading vanes gives a more even spreading across the entire working width. A more even spreading ensures a better wilting.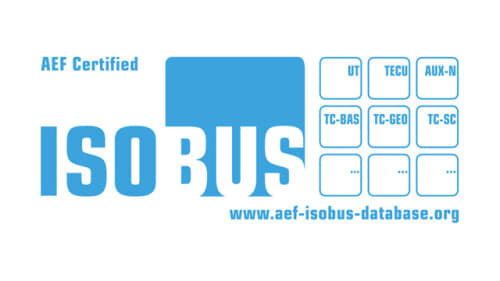 When deciding what equipment to purchase, it is not always easy to find the optimal solution in the broad market offering of today. Technology is developing fast and tractors and implements are more and more equipped with high tech electronics. We understand this complexity and are committed to provide you with easy farming solutions. Therefore these cost-efficient ISOBUS Universal Terminals, IsoMatch Tellus and IsoMatch Tellus GO+ are made for easy machine control and efficient farming.

With its advanced hardware and software features, the IsoMatch Tellus PRO provides the optimal precision farming solution for an all-in-one control system inside your tractor cab.
IsoMatch Tellus PRO is the centre for connecting all ISOBUS machines and a platform for running precision farming applications. It offers everything you need to get the maximum out of your machines and crops, as well as cost savings in fertiliser, chemicals and seeds by using automatic section control and variable rate control. With the unique dual screen functionality it gives you the opportunity to view and control two machines and processes simultaneously.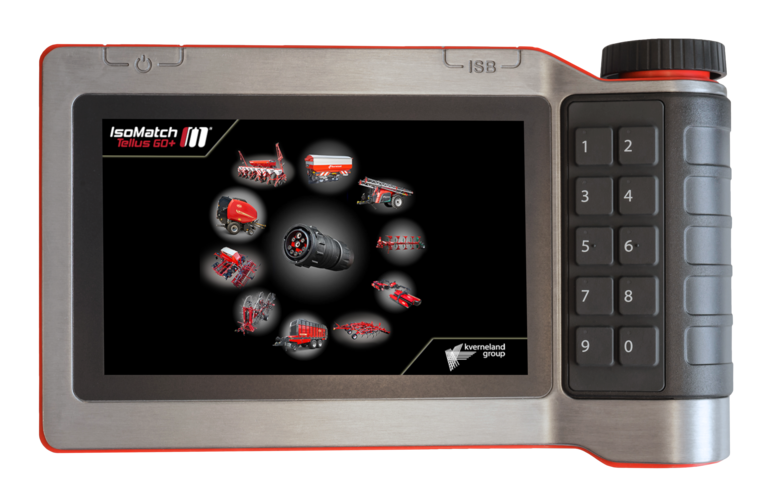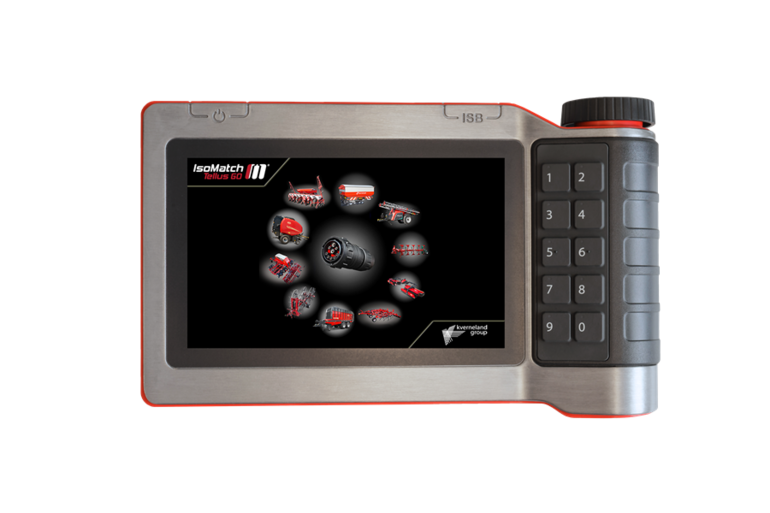 Work easy. Be in control.
The new IsoMatch Tellus GO+ offers a more powerful processor, allowing for significantly faster responsiveness and increasing the ease of navigation. The IsoMatch Tellus GO+ can handle demanding applications like IsoMatch FarmCentre, allowing advanced features and remote connection to your implement for a higher yield at less cost.
Ease of setting up the machine with the soft keys and simple use of the hard keys and rotary switch for optimal control while driving remains the trademark of  the IsoMatch Tellus GO+ terminal, and is testimony to Vicon's commitment to bring farmers the most advanced technologies to improve productivity and efficiency.
Technical specifications
Download brochure
| | | | | |
| --- | --- | --- | --- | --- |
| | Working Width | No. of Discs | Conditioner | Power Req, Min |
| EXTRA 690T ISOBUS | 9.00m | 2x8 triangular discs | SemiSwing | 160/220 kW/hp |
Find nearest dealer